La Galleria Il Ponte – in concomitanza con la mostra in corso allestita nello spazio Lorenzo Bonechi. Delle opere radicali, dipinti e carte 1982 – 1994, presenta un altro Virtual Show con una personale dedicata ai lavori degli anni Duemila di Jannis Kounellis. Jannis Kounellis. Cinque opere contempla quattro carte di medie dimensioni, soprattutto pastelli ad olio, realizzate tra il 2008 e il 2010, ed un dipinto di grandi dimensioni in acrilico su tela e acciaio del 2014.
…."il disegno nell'opera di un artista considerato come uno scultore ha un certo collegamento con le sue forme scultoree a causa di un particolare, e più profondo, impegno per l'immagine pittorica da parte di quell'artista, che, in questo caso, mostra un approccio insolito: fare un quadro uscendo dal quadro e formando l'immagine nello spazio, senza perciò rinunciare alla plasticità viva…" (Bruno Corà)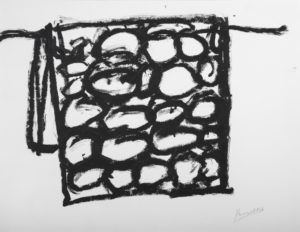 Virtual Show è una nuova modalità per proporre in questo periodo, l'attività della galleria. Lo spazio è concepito come la riproduzione fedele di una delle stanze della galleria in cui vengono presentate mostre personali attraverso un selezionato numero di opere.
Jannis Kounellis nasce al Pireo nel 1936 e muore a Roma nel 2017. Associato all'Arte Povera fino dagli anni Sessanta, investiga l'alienazione della la società contemporanea, giustapponendo i materiali della civiltà urbana e industriale di massa con i simboli e i valori del mondo pre-industriale. Incorporando umili materiali non artistici come cotone, lana, carbone, sacchi di grano, bottiglie di vetro, ganci per carne, fuoco, fuliggine, fumo, giroletti, porte, scaffali, e vestiti, l'opera di Kounellis risulta un insieme melodrammatico di installazione, ambiente, performance, e spettacolo teatrale.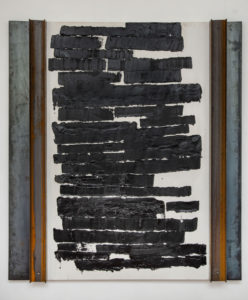 Gallery Il Ponte – in conjunction with the current exhibition set up in the space Lorenzo Bonechi. On radical works, paintings and papers 1982 – 1994, presents onother Virtual Show concerning the solo show dedicated to the works of the 2000s by Jannis Kounellis. Jannis Kounellis. Five works includes four midium size papers, above all oil pastels, realized from 2008 to 2010, and a large painting, acrylic on canvas and steel realized in  2014.
…"drawing in the oeuvre of an artist regarded as a sculptor has some link with its sculptural forms because of a particular, and more profound, commitment to the pictorial image on the part of that artist, who, in this case, shows an unusual approach: making a painting by going out of the painting and forming the image in the space, and without therefore relinquishing live plasticity…" (Bruno Corà)
Virtual Show is a new way to propose in this period the activity of the gallery. The space is conceived as the faithful reproduction of one of the rooms of the gallery in which personal exhibitions are presented through a selected number of works.
Jannis Kounellis was born in Pireo in 1936 and has passed away in Rome in 2017. Associated with Arte Povera since the 1960s, he investigates the alienation inherent in contemporary society, juxtaposing the materials of mass urban and industrial civilization with symbols and values of the pre-industrial world. Incorporating humble non-art materials such as cotton, wool, coal, grain sacks, glass bottles, meat hooks, fire, soot, smoke, bed-frames, doors, shelves, and clothing, Kounellis' work is a melodramatic mixture of installation, environment, performance, and theatrical show.